In the Know with OCMS - August 23
---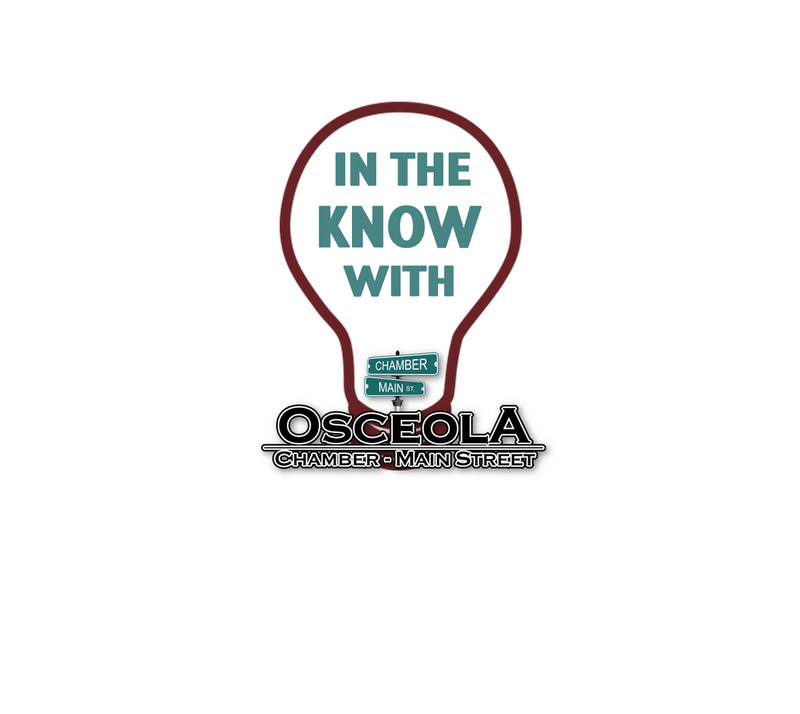 In the Know with Osceola Chamber-Main Street
As the OCMS Staff and Promotions teams continue plans for five events, they know they must have 'Plan B' ready to respond to Covid-19 protocols.  With strong encouragement from Premier Sponsor, American State Bank's leadership, and continued support from all other sponsors, the Latino Fest Team devised a scaled-back option of the event rather than cancel. The Thursday in the Park celebration, September 9, 5:30-8:30PM, will provide a family friendly evening with free entertainment, including local dancers, kids' games, and merchant vendors; food by Tres Lopez Taqueria.
Other Latino Fest Sponsors: Silver-Cactus Family Farms; Bronze-Clarke County Hospital, Hunsicker and Associates, State Farm Insurance and Gilbert True Value; Supporters- Great Western Bank, Stoney Oak Properties and Friday Insurance.
OCMS Staff, Board, Team Leaders and Community Partners host National Main-Street Officer
As part of the Main Street accreditation process, OCMS has yearly partnership visits with Main Street Iowa representatives. This year, however, National Main Street Senior Program Officer, Kathy LaPlante visited August 24th for a full day of meetings and a downtown tour.  
The purpose of the Main Street Iowa Partnership Visit is to give the local Board of Directors, staff, team leaders and community partners opportunities to share their activities and endeavors:
- Celebrate the progress and accomplishments of the past year
- Evaluate the efforts made to implement the Program during the past year
- Discuss technical assistance needed from the state Main Street Program
 The day began with LaPlante meeting with committee/project chairpersons and committee members followed by her visit with OCMS Board President, Casey Spoelstra and Vice President, Nicole Jacobsen. A conference with the Mayor/City Administrator and other elected officials was followed by lunch with Executive Director, Ashleigh Eckels and leaders who could not attend previous meetings. The downtown tour, follow up meeting with Eckels, and early evening OCMS Board Meeting completed the day.
National Able Network expands to include several Southern Iowa Counties
The Senior Community Services Employment Program (SCSEP) recently announced additional counties approved for the National Able Network. The network is a leading non-profit organization specializing in providing career counseling, training, and placement services for disadvantaged job seekers of all ages and skill levels. By designing programs that are mission-driven and results-oriented, National Able Network is a leader in implementing workforce development strategies that strengthen local and national economies of scale.
For every $1 invested in a National Able Network client, $5.95 is contributed back into the economy. Services for job seekers include individualized short- and long-term career planning, nationally recognized Job Readiness Training, access to wraparound services to meet basic needs, connections to post-secondary education and training, and job placement assistance. Each year, National Able Network provides career services to more than 75,000 individuals in Iowa, Delaware, Illinois, Indiana, Minnesota, and Nebraska. https://www.nationalable.org
The National Able Network partners with hundreds of local non-profit and municipal agencies- such as SCSEP to fill open positions by offering local seniors paid on-the-job training and placement. The positions give seniors the opportunity to work in their communities in various jobs at public libraries, food banks, municipal buildings, and more.
SCSEP program participants not only get on-the-job training, but they are partnered with one-one career coaches who help to update resumes, create LinkedIn profiles, and assist in preparation for interviews. It is the only federal workforce program specifically targeted to unemployed people 55 and older who meet specific income requirements.
For more information about the National Able Network and SCSEP, the Clarke, Decatur, Ringgold, and Union Counties contact is Nate Woods, 402-580-4976 or [email protected].
Business Buzz and Table Tent Events
OCMS business partner, Optometrist, Dr. Dave Hoadley-Osceola Vision, is celebrating 30 years in business!  Watch this space for an interview and background of how Dr. Hoadley grew his business.
OCMS business partner, Southwestern Community College and Iowa Works have joined to host a Career Fair at the Creston Campus August 31, 1-4PM. If you need help with a resume contact Iowa Works in Creston, (641) 782-2119
Are you looking for an apartment or housing for rent? OCMS has a list of contacts stop in or email to request the information.
Support local entertainment and events: Lyric Theater Show times: Friday @ 7PM, Saturday/Sunday 2PM and 7PM, all admission $5 no credit/debit cards. For more information-https://lyrictheaterweekly.weebly.com
Have you seen what is new at the Clarke County Historic Museum? Hours through October- Sundays 1-4PM or schedule by appointment. Marie White, 641.342.4838, Mike Boldon, 641.342.2538 or Tawny Waske, 641.414.5826. Historic Society meetings are open to the public the 3rd Monday every month @ 7PM-Osceola Masonic Lodge.
Clarke County Farmer's Market: Every Tuesday 3-6PM and every Saturday 8AM-Noon through September.
Free movie nights at the Lyric Theater brought to you by American State Bank: Come and see The Jungle Cruise any of these dates/times: Aug. 27th @ 7PM; Aug. 28-29 @ 2PM and 7PM. 
Revelton Distilling Company-Live Music Series through October, first and third Saturdays.
September 12:  Kids Superhero Party @ Your Sweet Pickins, @ 2PM, must register @ facebook.com/events/864710320817262
September 12: Hopeville Rural Music Reunion, 11AM-5PM.
OCMS sponsored event: September 10th , 12-4PM Annual Golf Tournament-must pre-register with OCMS.
Follow OCMS on Facebook, www.osceolachamber.com, call the office or email to stay informed with the Monday Morning Update.