Retiring Board Members Reflect on Their Service
---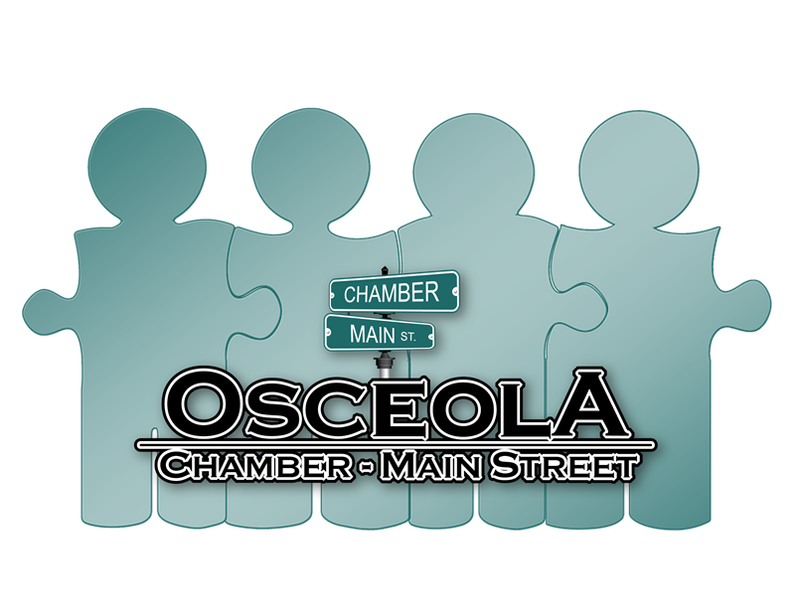 Chamber-Main Street is governed by a fifteen-member Board of Directors who meet the fourth Thursday of each month. Installation of new Board members who represent a variety of businesses, industry, and organizations, happens every year with an option to serve up to three, three year terms. OCMS has been fortunate in retaining Directors to create continuity in leadership while welcoming new partnerships. As 2020 closed, three Directors with a combined 30 years of service retired their positions.
Clarke County Hospital CEO, Brian Evans, joined the Board in January 2007 and was President from 2012-2013. He retired but agreed to return in 2018 to serve another member's term when she moved from Osceola. Being relatively new to Osceola in 2007, Brian wanted to become more involved and accepted the board nomination, "I have been able to meet some incredible people and made friends with numerous others through the Chamber…it was a way to be involved in community happenings."
His two most memorable projects are Cornerstone Suites and the Sportsman's Banquet. He credits former Board member, Steve Weers, for leading the huge building rehabilitation project and getting it done, "Bricks were falling off the building, part of the street was fenced off because of falling bricks, the side of the building had separated from the roof- it was in bad shape."

He said Steve led work on state grants; coordinated with architects to determine acceptable plans and design; gained support from Clarke County Development Corporation (CCDC) to back loans; and secured local bank loans. "It was a monumental project lasting for years, and without backing from CCDC and the banks, it wouldn't have happened…it's a great example of the community coming together to support a multi-million-dollar successful project. I hope we see other projects like that in the future to save our square."
Brian was quite involved in the Sportsman's Banquet and said the fund-raising event brought together a different group of people in the community, "It was fun to plan but took a tremendous amount of work from a very small committee…it evolved into a banquet to help raise funds for a fitness center… still a project that would benefit our community."

Evans says what will stick with him the most is the commitment from a few people who always seem to be there for OCMS. He says he has worked with great people who are still great contributors to the community, "I'm thankful for the opportunity to work on the Board and with some amazing people over the years."

Dave Selene began volunteering with OCMS when he moved to Osceola in 2010 and took the helm at Clarke County State Bank. Dave said he believes community bank employees should be involved and be seen by the public they serve, "I could not ask employees to do something I didn't do." Leading by example, Dave completed over nine years of service in March, when he retired from 1st National Bank.

Dave helped with many projects, but said he most enjoyed the Total Resource Campaign (membership and sponsorship drive). During his two years as Board President, he encouraged more structure and wanted the Annual Dinner to highlight accomplishments, "I believe it is especially important to show the numbers of each year and what OCMS does for the community and businesses."

Amy Lundquist became an OCMS volunteer in 2012 after she returned to her hometown to join the family business at Highway Lumber. "Serving as a volunteer for Chamber-Main Street was a great way to become involved in the community and meet new people," said Lundquist.

Amy served on several committees in different capacities: Promotions Chairperson, Community Development Block Grant sub-committee chair, Total Resource Campaign, and Fourth of July. Amy served two years as board Vice President and one year as President. In 2015 she was voted Volunteer of the Year. In the nomination sent by former Director, Derek Lumsden, she was described as a tireless worker, "She is a volunteer who never asks someone to do what she won't do. She is very inspiring this way and is a great leader for the organization and the community."

Helping to grow events such as the Snowflake Ball, Wine Walk and Fourth of July are what Amy considers to be her best accomplishments.

Business Buzz

Local artist, Tacy Cummings has added her artistic flare to the Flowers 'N More windows. Tacy has joined the OCMS Design Team to offer her assistance in upcoming projects.

Ivy Rose has a new awning to go with the recently installed blade sign. Rose Ann Jordison used the OCMS sign and awning grant to help with the projects. www.facebook.com/IvyRoseOsceolaIa/

Timber Ridge Country Market now sells Mayhew's Market wild gulf shrimp! facebook.com/timberridgecountrymarket/

Watch for the Mayhew's truck on the southside of the square and read more about the business www.mayhewsmarket.com.

The Iron Horse Neighborhood Grill now offers carry-out beer. Use their QR codes to link to all their menus https://www.ironhorseneighborhoodgrill.com

Stay In the Know: FREE Monday Morning Update delivered via email, follow OCMS at facebook.com/OCMS06 or osceolachamber.com. Questions? Contact 641-342-4200 or [email protected].