Annual Dinner Plans, Main Street Iowa Award Nominations, and Business Buzz
---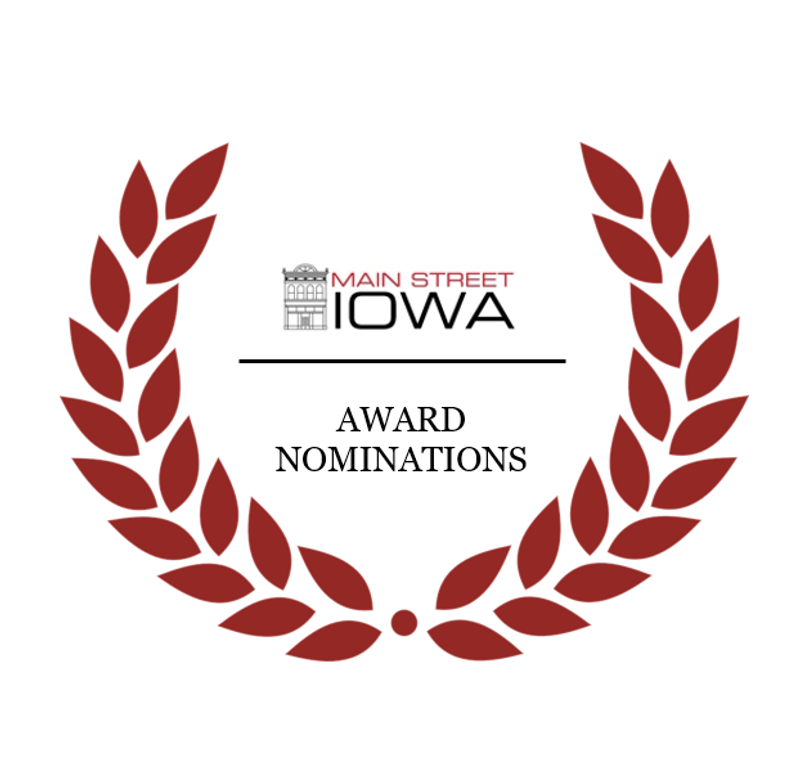 Annual Dinner March 23: Tickets on sale now online and at the OCMS office, check the Monday Morning Update and Facebook for more details and ways you can participate.
OCMS has become accustomed to re-imaging events and the Annual Dinner is no exception. The virtual, prerecorded event will launch on the OCMS Facebook page. The theme is "Maskuerade-Unmasking Unity Throughout the Community" with the focus on how Clarke County came together during the pandemic. The presentation will be jam-packed with all the good things from 2020.
Celebrate with OCMS and Clarke County Development Corp from the comfort of home! Dinner take-out options from Iron Horse and Timber Ridge, with a special option of Revelton distillery cocktails. Each ticket holder receives a party box packed with OCMS member contributions.
Premier Sponsor- American State Bank, and Silver Sponsors: Clarke County Hospital, First National Bank, Fleetside Ford, Hunsicker and Associates, Revelton Distilling Company and Saylor Realty.
Main Street Iowa Award Nominations
Each year OCMS submits nominations for Main Street Iowa Awards. Because Covid-19 caused so many event cancellations, Main Street Iowa determined not to judge the nominations this year, but rather, compile them for members. The 'Hero Award' is a posthumous recognition of someone who championed the community and the spirit of Main Street.
Becky Persels was the nominee, and the following is an excerpt from the submission.
Becky was a proud military wife who deeply loved her family; children and young people in-general; showed compassion for all creatures and tirelessly worked to make things better for her hometown. Many of her humanitarian actions are unknown to the public. 
After the Persels returned to Osceola in 1976, Becky continued her welcoming ways and people soon knew she enjoyed serving the community. She had a big bowl of candy and a bowl of dog treats sitting on her desk.  As a one-person Chamber of Commerce who was only paid a small stipend, she was very dedicated. She often used her own money to buy supplies or anything needed for an event, and she had a second office line installed at home so as not to miss a call.  
Many of the events OCMS hosts, today, were implemented by Becky. Although noticeably short in stature, she was described as a ball of energy; she knew how to get things done and how to rally volunteers.  Her joy was organizing events for children and families and was always open to new ideas. When a local minister asked if he could read the story of Easter at the annual Easter Egg hunt, she immediately said 'yes, we can do that right after the egg hunt.' After the minister gently pointed out that most of the kids would probably take their candy and leave, she agreed the story should be first.
When Chamber and Main Street began to merge, Becky was there to help with the process. As the person who shouldered so much, she supported the partnership as what was best for the future of the community. Sadly, Becky did not live to see the merger in 2007, as she suddenly passed away January 27, 2006.
Her Pastor, who actively worked with Becky on several projects said this, "While many know of her gift of the Skateboard Park to the community, she gave much more than that. Her generosity, commitment to serving Osceola and caring for individuals were immeasurable. She was particularly drawn to those who had no one else to fight for them. On more than one occasion, all without fanfare or desire for recognition, she would come to the rescue of someone struggling in life. She once commented to me, 'I've received blessings in my life. I want to pass some of those on.' And so, she did."
Other categories and submissions
Design Oriented-Building Improvement Project: Ivy Rose Boutique
Organization Oriented- Engaging Volunteers in Activities: Holiday Brilliance courtyard lights
Promotion Oriented- Created New Retail or Special Event: Fourth of July
Economic Vitality Oriented- Marketed Small Businesses: Holiday Brilliance
Leadership: Great Western Bank-focus on volunteers
Business Buzz
Did you know SalonRed and Boutique and Backdoor Country Crafts represent 21 local vendors?
DES Prom Closet (Experience the Prom of Your Dreams In A Beautiful Dress...At No Cost!), 641-342-6182
Osceola Municipal Golf Course is hiring. Apply at City Hall, call 342.2377 for more information.
Sign up for weather alerts and Covid-19 vaccination information at Clarke County Emergency Management.
Alley Bowl is serving lunches-check their Facebook page for menu. 342-6065
Bingo at the Eagles-Mondays 6:25 and 6:45pm.