Annual Dinner Event "Unmasking Unity Throughout the Community"
---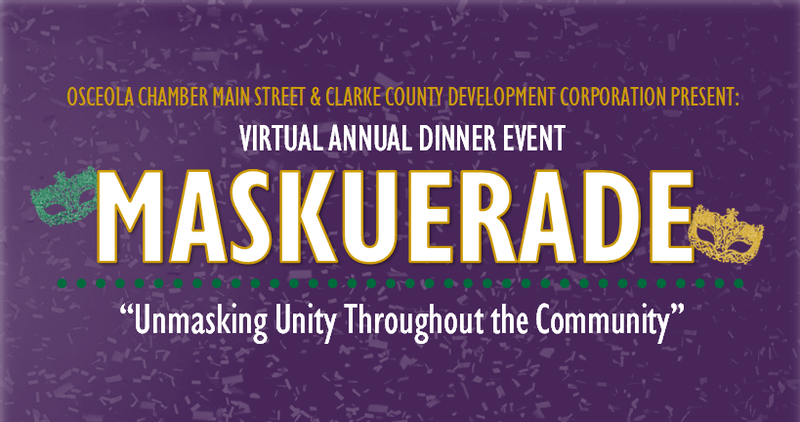 The 2020 Chamber-Main Street and Clarke County Development Corporation Annual Dinner is virtually a wrap. The teams at Iron Horse Neighborhood Grill and Timber Ridge Country Market, kept busy as 119 prepared dinners were packed and picked up by hungry patrons. Thanks to technology and the slicing and splicing expertise of Emcee Chuck DeVos, several pieces of video and pictures starring various Chamber-Main Street business members and volunteers told the story of community support and business gratitude during the past year.  "Thank you to everyone who participated in our Annual Dinner Event and Silent Auction our organization is made possible through the generous support of our community and business members", said Ashleigh Eckels, Executive Director OCMS.
OCMS Staff, some board members, and guests, and a few CCDC Board Members enjoyed their meals in the Revelton Distilling Company's Tasting Room, with their hosts, Rob and Christie Taylor and staff who created special to-go cocktails for the event. The flexible tasting room is set-up to accommodate presentations on large screen televisions. Attendees appreciated the program which illustrated that despite the pandemic, the Clarke County 'Can Do' spirit remains.
The on-line silent auction which ended at midnight March 23, garnered $1,200.00 for OCMS to use in upcoming projects. The auction was made possible by generous donations and supported by enthusiastic community bidders.  Auction items include a weekend stay at Lakeside Hotel; high-fired textured stoneware bowl from artist Mary Ellen Kimball; kid's bicycle from Fareway; two gift baskets from Revelton Distilling Co.; one hour airplane excursion from Mary Ellen Kimball; bookcase and ottoman from Midwest Wholesale (Gilbert True Value); Pelican cooler from Highway Lumber; decorative wall sign from Stoney Oak Realty; tumbler and hat from Mayberry's; hair Color by Sassy's Styles; and loaded goody baskets from Osceola Foods, salonRED, Timber Ridge, Homestead of Osceola, and Great Western Bank.
Watch the virtual event here!
Thank you to our sponsors!
Premiere: American State Bank
Silver: Clarke County Hospital, First National Bank, Saylor Realty, Fleetside Ford, Hunsicker & Associates, and Revelton Distillery.