Request for Proposal: Public Art Mural Project at 148 W Jefferson Street
---
Overview:
Seeking bids from artist(s) to create and install a mural on a two-story brick building in downtown Osceola, Iowa. The empty lot between Clarke County Public Health and Kerr Family Dental will be turned into a pocket park themed "Salute to Volunteers" to honor volunteerism. The area will contain a large mural, ADA compliant seating, sunshade, and plants. It will be an easy- to- maintain, gathering space and visitor attraction.
Goals:
- Select a dedicated and qualified artist or artist team that demonstrate artistic excellence while completing this project on time and within budget.
- Create a piece of public art for an outdoor environment that reflects volunteerism.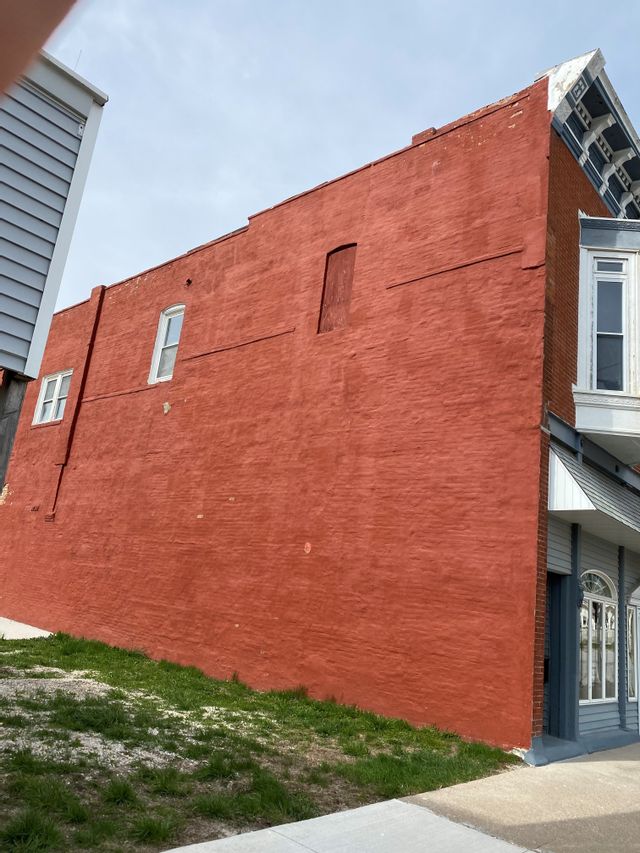 Location
148 W Jefferson Street, Osceola, IA (Kerr Family Dental)
Artist Requirements and Desired Skills
- Artist will be expected to both create the design and complete the painting/installation.
- Willingness to work with community representatives on the design.
- The artist will do up to two meetings with the Mural Project representatives to discuss and revise the design (if needed) before final approval is given.
- The project budget is not to exceed $4,000 for an artist or team of collaborative artists.  The budget should include the artist(s) fee, supplies, travel related expenses, and other associated costs.
- A grant for 5 gallons of free Diamond Vogel paint has been awarded for this project if the artist wishes to use it.
Application Requirements
- Supporting materials, including images and reviews of previously completed works.
- Project Budget
- Statement of qualifications for completing this project (previous experience with public art or large-scale artwork such as this, no more than 1-3 paragraphs)
- Narrative and design illustrating the concepts is required for each submission. Include supplemental   information such as medium, timeline for completion and approximate dimensions of proposed   mural.
- The submission deadline is August 1, 2021.
- Submit via email at [email protected] or mail/drop of at the Osceola Chamber Main Street office.
115 E Washington Street
PO Box 425
Osceola, IA 50213