OCMS Investor Spotlight: Revelton Distilling Company
---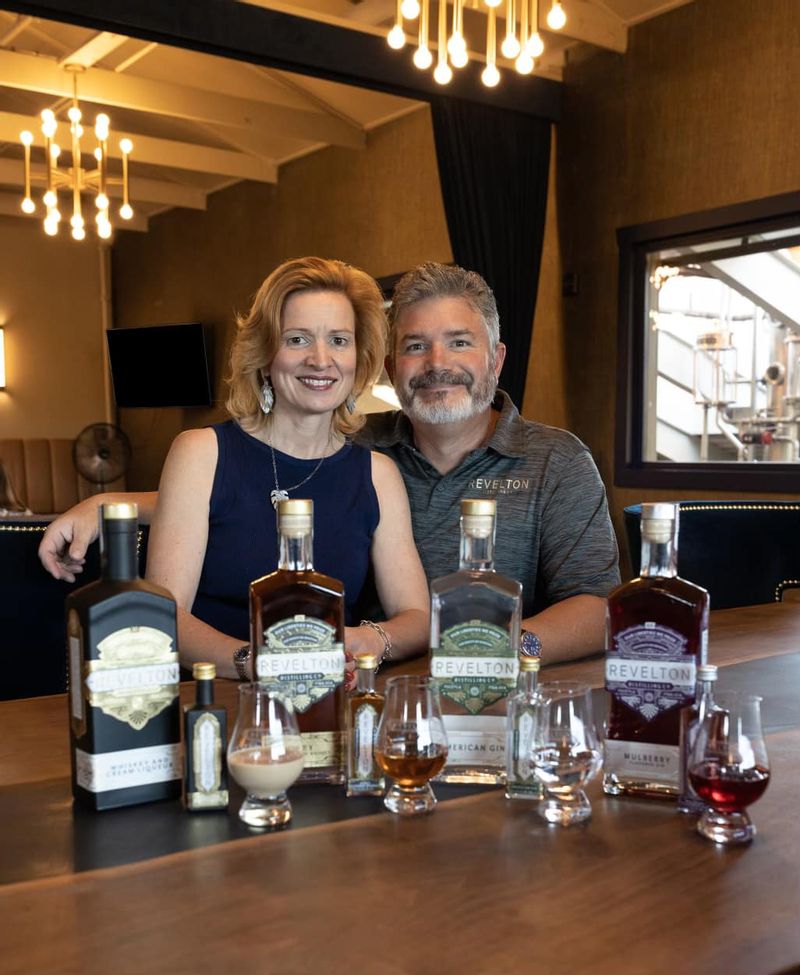 To say Rob and Christi Taylor are enthusiastic and passionate about one of Iowa's only "grain to glass" distillery, would be an understatement. The Taylors forged ahead through delayed parts and product deliveries due to the pandemic and kept an optimistic outlook to hold firm to their goals. Although some of their timelines were not met, Rob says they were extremely lucky and blessed to have everything ordered and in the works before the pandemic shutdown.
The fruits of their labor and ten years of preparation are beginning to pay-off as they can now add "Award Winning" to their spirit labels: Triple Gold for their Whiskey and Cream Liqueur and Honey Whiskey, and Gold Awards for Package Design, American Gin, and Mulberry Gin.
Rob credits local business partners Randy, Jeanne and Travis Short of Short Construction, Bud Jones Construction, Cambron & Thacker Construction and Gilbert Home Comfort, for building infrastructure. The Revelton green business plan also includes purchasing all American made products and partnering with several local farmers in Clarke and Decatur counties to obtain grain and recycle the used mash for livestock feed.
This year, the company will purchase 12,000 bushels of corn, and 9,000 bushels of barley and beginning in July, 400 acres of Winter Rye grown by several farmers will be used in the distilling process. Gaylen and Patty Jimmerson -Deer Run Ranch, grind the grain and use the spent mash for their livestock. Galen said, "It has been a wonderful partnership between Rob & Christi."
It generally takes 4,500 bushels of grain and 1,500 gallons of water to produce six-eight barrels of whiskey. The high-tech, on-site water filtration system removes the chemicals and minerals which Rob says gives close to glacier purity. Getting to the high spirits alcohol is a three-step process: cooking the grain in the 3,000-gallon cooker named Big Bertha, pumping that grain into three, open-top fermenting tanks where proprietary yeast strain is added to achieve 10% alcohol by volume or 'beerwort'. This product is distilled through their 33ft tall Vendome column still called Lucy- the tallest still used for native distilling in Iowa. Vendome equipment is hand-crafted and produced in Kentucky, the epicenter of American distilling. It requires 18-24 months to produce Rye Whiskey and 30-36 months aging for bourbon.
Revelton Distilling Company employs 13 full and part time people including five from the Des Moines Metro area who are gaining knowledge of the local community and what it offers. The whole family is involved in the business. Rob says as co-owner and primary distiller, "it is my job to provide high quality spirits to Christi who is the master of mixology and gin distiller." Christi makes every cocktail a work of art. Her attention to detail not only shines in the cocktails but in the Art Deco style tasting room she manages. Their oldest son, Ben, bartends, is learning the art of mixology and helps in the distillery when needed; the Taylor's two daughters are investors, and their son-in-law was the project architect. Rob and Christi's youngest son, Will, contributes by cleaning, sweeping and lawn work and he also raises bees for the Iowa Honey Company.
Revelton fully promotes local tourism by advertising locally, nation-wide, and globally, and they constantly look for ways to draw more people to Southern Iowa. In addition to promoting a family-friendly environment and hiring local talent for their "Summer Entertainment Series," they are "Harvest Hosts" which Rob describes as a Bed and Breakfast for campers. They provide an overnight spot to park for travelers who want local experiences, which might include a trip to a local farm, for instance. Rob hopes to inspire young people to think about becoming farmers and entrepreneurs as well as showing their potential connections to non-traditional business opportunities like Revelton. 
A year in the future, Rob hopes warehouse number two is complete along with an outdoor stage, landscaping, and hardscaping. "I hope we double our capacity in products and attendance." Off site, the plan is to be selling in three more Midwestern states.
Year three the plan is to be present in two different countries and working toward a Global perspective. In the meantime, he will continue educating the public and politicians about the distilling industry and promoting distilling and mixology to the 21st Century workforce.  "If anyone is interested, they should contact me," stated Rob.
Revelton Distilling Company recently added another product to their spirit lineup.  Eighty-proof "White Whiskey" is made with Revelton Bourbon mash bill. "We are making some tremendous drinks in our cocktail lounge with 'Revelton Shine'." The Taylors are currently making two very popular drinks with this White Wonder: "Shine-on" is made with caramelized pineapples and pineapple juice and the "Shinearita", is a play on a margarita made with White Whiskey. Rob says Revelton has numerous other unique cocktails like the Mulberry Gin Mule, Mudslides made with their "Whiskey & Cream" Liqueur and their signature cocktail, the Honey 'Ol-Fashioned using their very popular Honey Whiskey. 
Revelton's most popular product in their Retail Area is the Revelton Honey Whiskey, Mulberry Gin, and Whiskey & Cream Liqueur. Finally, for those that don't consume alcohol they make an outstanding Old Fashioned Revelton Root Beer.  Rob & Christi continue to strive for a family friendly Tasting Room and Distillery that has something for everyone and the entire team lives by their moto "To Good Times & Great Spirits".  To learn more about Revelton Distillery, visit www.reveltondistillery.com or follow them on social media @ReveltonDC