October 4 - In the Know with OCMS (Event Updates, Market Study Business Results, & More)
---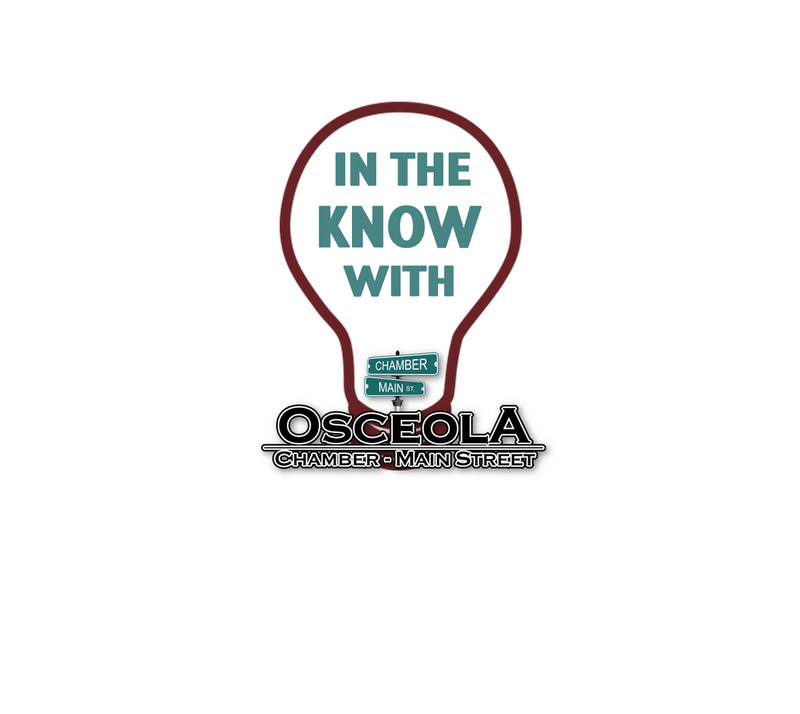 As the busy event season approaches, OCMS Staff, volunteer board members and committees are making lists and checking them twice. Plans for the traditional Trunk or Treat, Wine, Beer and Spirits Walk, Holiday Brilliance/ Shop Small Saturday and the Annual Dinner celebration are well underway. Alongside event plans, one major, on-going project-the Osceola Market Study Project, hit the mid-point and the Total Resource Campaign-membership drive began.
Event Updates
October 29: Trunk or Treat on the courtyard 5:30-7PM. Business representatives will have their trunks and tables ready to distribute goodies to children up through the fourth grade.
November 5: Sip, Shop and Stroll at the participating businesses for the Wine, Beer and Spirits Walk. Tickets went on sale October 1st for $30. at the OCMS office. Note: To avoid crowding, there is a cap of 300 tickets with no sales at the door. Expect food trucks and special merchandise with a culminating after-party at Revelton Distilling Company.
November 27: Although OCMS Staff does not have a complete list, several activities await participants for Holliday Brilliance-Shop Small Saturday. Kids crafts, gingerbread house contest for all ages, hot chocolate, merchant specials all day long, Santa House will be open, 'fill the sleigh' for the food pantry, mule team wagon rides, a special visit from Santa's deer and an elf; Santa's mailbox, courtyard lighting, lighted parade… stay tuned for more!
January 25: Although there are few specific details in this early planning stage, the committee will sell 100 tickets for a sit-down dinner at Revelton Distilling Company where people will also watch the year in review presentation, hear the overview from Clarke Development Corporation and Chamber-Main Street, and learn who earns the Community Service Award.
OCMS invites the whole community to think about those special people who go above and beyond expectations to make Clarke County better. Submit a letter of support detailing your Community Service Award nominee(s) volunteer work and send to OCMS via mail or email. These letters are reviewed by an unbiased committee made up of 3 past winners, 3 Osceola Chamber Main Street Board Members and 3 Rotary Members.
Market Study Results
The Market Study Project Committee reviewed results of the business and community surveys with Main Street Iowa Specialist, Robin Bostrum and set a date to choose priorities for strategic planning in the upcoming weeks and year. The surveys, open to all businesses and community members, revealed a few surprises, confirmed some opinions and overall, gives OCMS and interested stakeholders' targets for community improvement.
Beginning with the business survey results, Bostrum revealed the respondents represented eating and drinking, retail, office/professional and service areas, and most people owned the location. The number of years in business was split between 1-9 and 10-21 years and the majority said they plan to start or complete building improvements and would welcome free or low-cost improvement design services and low interest loans. Ninety percent of businesses identified customers as local/regional residents and half of them believe they retain customers because of reputation.
Business owners identified social media and websites as their most used means of advertising; the majority would participate in a collaborative marketing campaign. More restaurants, craft/quilt shop and a Sports Bar-type restaurant were their preferences for new business, and they would like to see more incentives for new and expanding downtown businesses. When asked about one or two things they would like to do to improve Osceola, which was a write-in answer, the majority of the first and second choices pertained to enforcing or creating stronger codes to address poorly maintained/dilapidated businesses and residential properties.
A surprising and positive revelation was the majority of respondents gross sales or revenues stayed steady or increased from 2019-2020, and they all expected to hold or increase from 2020-2021.
"It was wonderful to see the consumer support showed to our business community in 2020 and how that support continues to be ongoing and growing, said Ashleigh Eckels, OCMS Executive Director. "Now that the survey results are in we are excited to start planning our strategic strategies based on the needs of our business community."
The next instalment of In the Know will cover the consumer survey responses and reveal the next steps to attain priorities and future plans.
A Shout Out
Thanks to these October table tent sponsors: Timber Ridge Country Market, Country Concrete, Highway Lumber and Southwestern Community College, and the volunteers who delivered them. Sean Cullen, Great Western Bank; Linda Phipps, retired Ankeny Teacher; Kasi Shaw, Mosaic of Southcentral Iowa; Dave and Lee Anne Opie, Clarke Electric, John and Dawn Kempen, Osceola Foods.
One More Thing
OCMS will be cutting the ribbon at 9:30AM to celebrate the new additions at Clarke Electric and kick-off their Open House, October 29th, 10AM-3PM.
Make your social media news count- follow OCMS on Facebook where the latest happenings are regularly posted. If you do not have access to the Internet or a computer, OCMS encourages subscribing to the Osceola Sentinel Tribune. Would you like to meet new people and be active in the community? Call and staff will try to match your interests with OCMS events. 641-342-4200.