In the Know with OCMS - Jan 17
---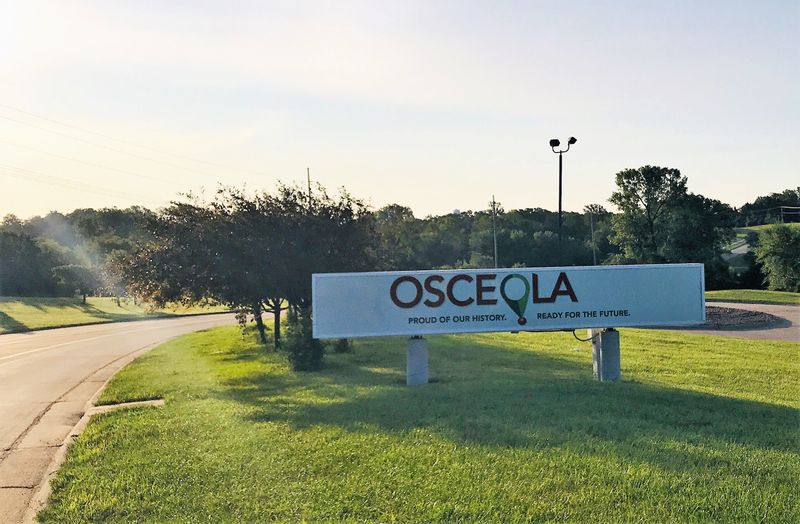 A little research into the challenges of rural communities clearly reveals Iowa, specifically, Clarke County is not alone in its challenges of major infrastructure needs, housing and daycare shortages, and holes or perceived holes in amenities, shopping and dining.
What Osceola has going for it is population growth, city planning, business development, a good mix of degree-required, technical, agricultural, and entry-level jobs which include paid internships; strong support for the arts, and many amenities other small towns lack: Movie theater, public golf course, small airport, Amtrak, paved and natural walking trails, hundreds of acres of parks, lakes and hunting grounds; a distillery, casino, a variety of hotels/motels, cultural diversity, events for every season and much more.  
People wishing to start a business or considering expansion have access to several free resources. They can find support in the South-Central Iowa Small Business Development Center (SBDC), Main Street Iowa, and through grants offered by the State of Iowa in partnership with the city and Main Street, and local grants through Clarke County Development (CCDC) and OCMS.
According to their website, The SBDC, hosted by Southwestern Community College, provides support to start-up businesses and existing small businesses in communities located in the Southern tier of Iowa. It coordinates counseling services to help launch new businesses and supports existing small businesses. These services include helping obtain investments and finances to establish a new business, assisting with set up of an exit or succession plan for existing businesses and everything in between.
Through partial funding from the U.S. Small Business Association and matching funds Southwestern Community College, their host institution, and local economic development groups including Clarke County Development Corporation, the SBDC is able to offer business planning services, monthly workshops and one-on-one consulting at no charge to the business owner.  
Additionally, the 12 page, 2021 Market Study and Strategies document outlined in the November 15th edition of this column, offers transformational strategies from data, and research about Osceola from its residents, workers who may not live in Osceola, and business owners who may/may not live in Osceola. In short, it illuminates the opportunities and challenges unique to Osceola: It is not a one-size-fits-all report.   
The document summary stipulates the fluidity of transformation. The study is not an end, rather a tool to use in the overall enhancement initiatives. It identifies "today's priorities, challenges and emerging opportunities, it cannot and does not pretend to, anticipate next year's challenges or exciting and unanticipated opportunities on the horizon."
The final paragraph includes a few examples of supporting and sustaining economic vitality. These are not labeled as deficiencies- just examples of activities: Document/track building inventory and occupancy, determine underutilized spaces, follow property values, develop a data base of building and business owners, maintain an updated business directory and provide a 'hotlist' of properties and spaces available for sale or lease….
Other suggestions: Provide technical assistance with building rehabilitation projects, sharing best practices and grant opportunities. The City of Osceola, Clarke County entities, CCDC, and OCMS are engaged in most if not all of these activities and many more as described on their websites, official Facebook pages and open meetings.
Hats off to generous volunteers
Andrew Redman cleaned out his stock trailer and hauled 20 decorated Christmas trees from the Lakeside Casino "Giving Trees" display to the Osceola Senior Center for distribution to families who would, otherwise, not have a tree.  
OCMS Table Tent Sponsors and delivery volunteers:
November: Boyt Harness, Great Western Bank, 615 Graphics and Communications Solutions
December: LifePoint Assembly of God, Osceola Fire Department, and 615 Graphics.
January: Hunsicker and Associates, 1st National Bank, Country Concrete and Southwestern Community College.
December and January table tents were built by Great Western employees and delivered by the following people and/or groups: Dave and Lee Anne Opie-Clarke Electric; John, Dawn and Payton Kempen- Osceola Foods; Sean Cullen-Great Western Bank; Amber Barton-Chiropractic 1st; Dan Wofford and host home provider Jordan Henke, Kasi Shaw and Megan Rinner-Mosaic; and Linda Phipps.
Make your mark in Osceola and become a volunteer. OCMS will help you find the best fit for your time and talents. Follow us, check out osceolachamber.com, contact [email protected] or call 641-342-4200.