In the Know With OCMS: May 1-7 is National Small Business Week
---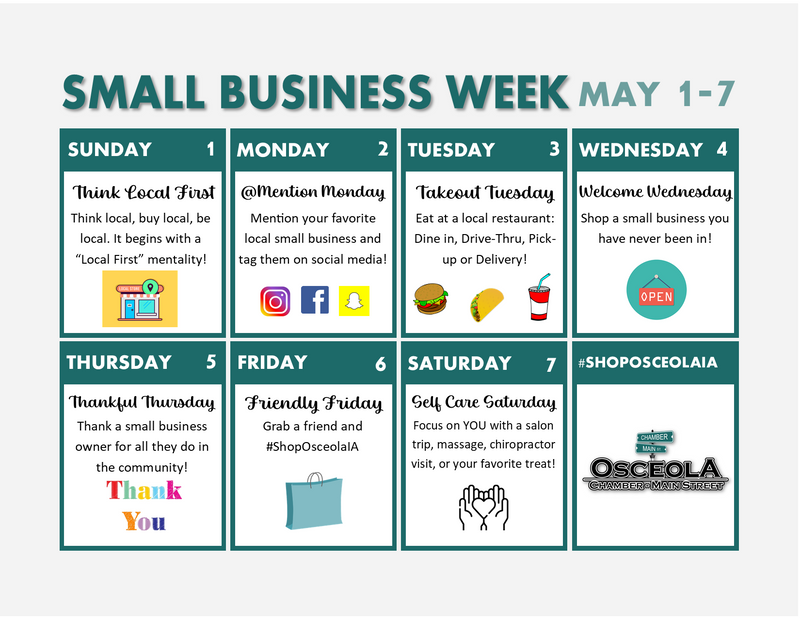 May is a busy month for celebrations such as graduations, proms, and awards ceremonies, but OCMS is also focusing on National Small Business Week and Historic Preservation Month.
The theme for Small Business Week as chosen by the Small Business Association (SBA), is "Building a Better America Through Entrepreneurship."  The SBA posted several special free events and resources to celebrate. During their Virtual Summit, some high-profile businesses will offer advice: T-Mobile, Square, Google, Meta, Chase, and Samsung, to name a few. Check out the complete lineup at https://www.sba.gov/national-small-business-week.
To kick-off the local recognition, Ashleigh Eckels distributed "We Value Your Small Business" cards to all board members who will present them to small business owners. To participate in the fun of supporting local and win Warrior Dollars, check out the calendar of activities found in the Monday Morning Update and here: https://www.facebook.com/OCMS06
Small Business Statistics
Small businesses in the U.S. employ and estimated 59.9 people or 47.3% of all employees in the United States. According to 2021 numbers, Iowa has 273,969 small businesses which account for 99.3% of all business and nearly half of all employees statewide. The ownership breakdown looks like this in Iowa: Women-43.3 %, Veterans, 7.8%, Hispanics 2.5% and other minorities own 4.5%. Sixty-five percent of all new jobs during the last 17 years came from small businesses.
Why Support Small Businesses?
Local businesses are more likely to utilize other local businesses such as banks, service providers, and farms.
For every $100 spent, $68 or more will stay in the community.
Independent retailers support the local economy by returning more than three times as much money per dollar of sales to the community as chain retailers, and independent restaurants return more than two times as much money per dollar of sales than national restaurant chains.
Local businesses are owned and operated by your neighbors! They care about and are invested in the well-being of your community and its future.
Local businesses are more accountable to their local communities and donate more money to non-profits and all kinds of community projects.
Supporting local businesses is good for the environment because they often have a smaller carbon footprint than larger companies.
Osceola businesses report strong local support. Please join OCMS in continuing to support friends and neighbors who own and operate small businesses. #shoposceola
A Shout Out
OCMS welcomed three new board members: Laura Langholz-SalonRed; Brittney Thelen-Community 1st Credit Union and Shane Simpson-Human Resources Lakeside Casino. 
March table tent sponsors : American State Bank, Jim's Sanitation, Hy-Vee and Blakely Tree Service. April sponsors: Fareway, Lifepoint Assembly of God and Rychnovsky Lawn, Inc. Delivery volunteers: John and Dawn Kempen, Dave and Lee Ann Opie, Diane Ogbourne, Lexie Penick and Colby Feehan 

One More Thing

Start planning that parade entry! This year's Fourth of July theme is "America's Main Street."

Get involved and stay in the know:  641-342-4200 or [email protected]