In the Know with OCMS - May 31
---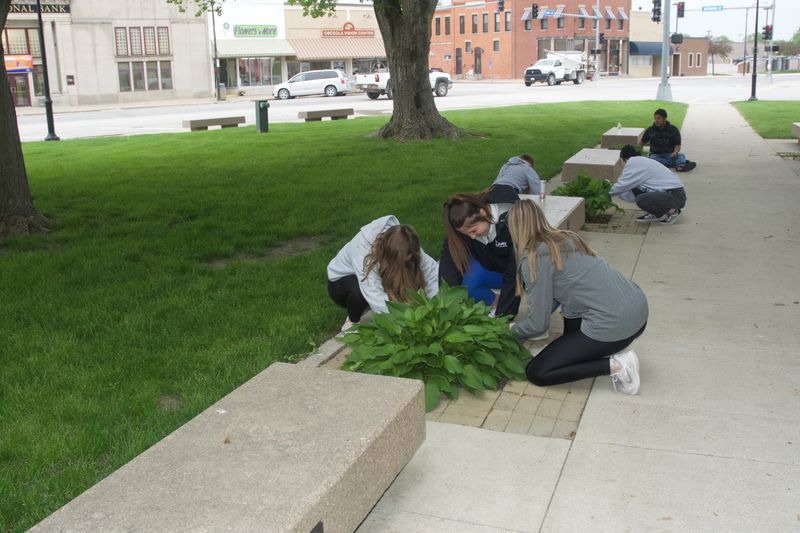 In the Know with Osceola Chamber-Main Street For OCMS Director, Ashleigh Eckels and City Manager, Ty Wheeler, one important focus the last several months has been the Community Development Building Grants (CDBG), how to utilize historic tax credits and identifying other potential rehabilitation projects. A February 2022 article in this column announced the City secured $500,000.00 CDBG-Covid funds, for nine downtown buildings. Each project/building requires hours and days of research, meetings, proposals, revisions, and presentations to building owners and all involved in the process. During the May 26th OCMS Board Meeting, Ashleigh reported the latest grant meetings-projects and progress throughout the month. Ashleigh, Ty Wheeler and various project professionals and each business owner discussed final design proposals with the architect. This was a last chance for everyone to finalize his/her project and discuss facade materials and details, colors, etc. Following these meetings, the designs are submitted to the State of Iowa for a Section 106- Historical Review. The historical review is part of the National Historic Preservation Act (NHPA) of 1966, which launched the preservation of the nation's historic properties. The NHPA established a partnership between the federal government and state, tribal, and local governments supported by federal funding for preservation activities. 
Section 106 requires federal agencies to consider the impact of their actions on historic properties and provide the Advisory Council on Historic Preservation with an opportunity to comment on projects before implementation. Because of Section 106, agencies must assume responsibility for the consequences of their actions on historic properties and be publicly accountable for their decisions. Everyone involved hopes bids for the CDBG projects will go out In August.
https://www.achp.gov/digital-library-section-106-landing/national-historic-preservation-act
Utilizing Historic Tax Credits
During another preservation-related meeting, Steve Wilke-Shapiro of Sequel Architecture in Des Moines, presented information to Ashleigh and Ty about implementation of historic tax credits. He provided an overview of the program and informed them of how to utilize the credits for potential building rehabilitation projects. The Federal Historic Preservation Tax Incentives program encourages private sector investment in the rehabilitation and re-use of historic buildings. The job-creating program is known as one of the nation's most successful and cost-effective community revitalization programs. It has leveraged over $116.34 billion in private investment to preserve 47,000 historic properties since 1976. The National Park Service and the Internal Revenue Service administer the program in partnership with State Historic Preservation Office. In short, A 20% income tax credit is available for the rehabilitation of historic, income-producing buildings that are determined by the Secretary of the Interior, through the National Park Service, to be "certified historic structures."
Each potential project and rehabilitation work is reviewed to ensure compliance with the Secretary's Standards for Rehabilitation. The Internal Revenue Service defines qualified rehabilitation expenses for potential credit. Technical Preservation Services approves approximately 1200 projects each year, leveraging nearly $6 billion annually in private investment in the rehabilitation of historic buildings across the country.
https://www.nps.gov/tps/tax-incentives.htm
Future Rehabilitation Funding
Looking ahead to future projects and how to fund them is a constant process. Jim Thompson, Development Specialist at the Iowa Downtown Resource Center, also met with Ashleigh and Ty to outline various grants to utilize for future rehabilitation projects in downtown Osceola.
A Shout Out
With a lot of volunteer help, the OCMS Design Team finished sprucing-up the courtyard just in-time for the Memorial Weekend. With help from Paula McClaflin, the first steps involved pulling weeds, and cutting off dead foliage in the large planting beds. New potted annuals placed by Casey Spoelstra led to the finishing touches, which required more help.
Led by four teachers and two members of the Design Team, approximately 25 students volunteered to complete the job. The teachers and students literally got their hands dirty pulling weeds and spreading mulch around the all the Hosta; spreading mulch in the two landscape beds and around the bell tower and adding pre-emergent granules on top of the mulch to help prevent weeds. Ashleigh Eckels supplied cookies and water for the volunteers and Kim Jackson from Timber Ridge Country Market delivered beef Jerky when she saw all the students working. Other people and businesses associated with the project: Noah Kaldenberg of Rychnovsky Lawn, Inc. cleaned up the bricks and applied weed killer to the Veterans' Memorial area. Russ Johnson coordinated with Jack Chesnut- Chesnut Lawn and Landscape to deliver and pile mulch so it could be efficiently used, and George Norris gathered the rest of the needed supplies. Mark Your Calendars: Learn and Play Local June 3rd and 4th: City Wide (garage) Sales and Sidewalk Sales with some merchants. Map posted at https://www.facebook.com/OCMS06 June 7th-Meet Your OCMS Businesses: It is not too late to reserve your spot on the courtyard. If you are an OCMS member, this is one of the membership perks! Gather all those marketing pieces you have been saving and set-up a table for a night of great music, fabulous food, camaraderie, and fun. Call Ashleigh at 641-342-4200 to get a spot or if you cannot be there in-person, be represented by donating a drawing prize.