Inaugural Tuesday in the Park with the Clarke County Farmers' Market A Success
---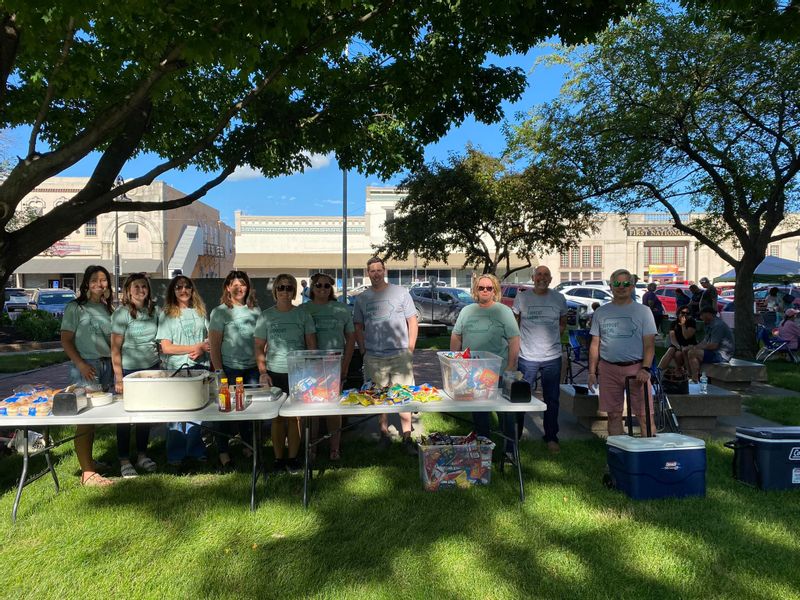 In the Know with Osceola Chamber-Main Street  
Inaugural Tuesday in the Park Counted as Successful
Celebrating Osceola's 25th year as a Main Street community officially began with Tuesday in the Park, June 7th . The courtyard came to life for the season with 19 OCMS Business Members booths, Farmers Market vendors, free food distributed by OCMS Board of Directors wearing 25th Anniversary T-shirts, merchant games and live music by Salt Creek.
Through announcements and the display organized by OCMS Summer Intern, Cady Crawford, the community learned more about how OCMS would like to celebrate the milestone, which includes raising money for enhanced, year-round lighting around the square. "We are excited to celebrate our 25th anniversary with a fundraiser for downtown lighting and highlight the historic character of our downtown. We were wanting a way to provide more lighting for the holiday season, and we thought this would be the perfect solution; in turn, be able to light up the downtown all year long." -OCMS Director, Ashleigh Eckels
The community could promote tourism and support the lighting project by purchasing a 25th Anniversary T-shirt available on-line or during the Fourth of July celebration. OCMS also encourages donations to this project.
Although the Tuesday evening was a success, Mother Nature's threatening weather caused the festivities to end about 30 minutes early. Despite the early finish, Ashleigh was pleased, "We had a great turnout moving it to Tuesday Night and joining forces with the Clarke County Farmers' Market."
A Special Shout Out
Chuck DeVos provided his technical expertise, sound system, and positive public relations skills in his support of the event.
Thank you to these sponsors: Osceola Foods supplied the pulled pork for the meal and partnered with Hy-Vee to prepare the meat for serving and provided buns and condiments. Walmart donated the chips and ice cream. Other sponsors: American State Bank, Miller Products and Gilbert True Value.