Osceola's Independence Day Celebration "America's Main Street"
---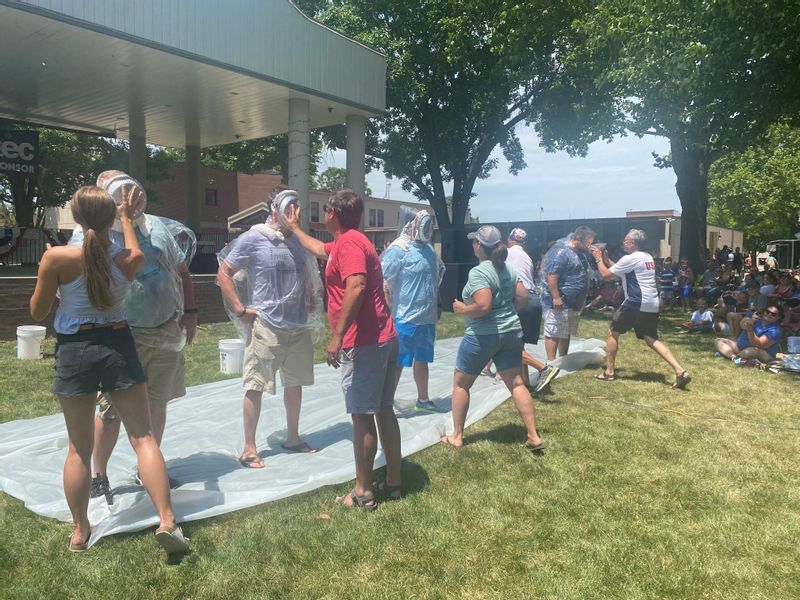 Another Fourth of July celebration "America's Main Street" is history for OCMS and all the people who made it happen. Although it was a hot few days, the breeze and shaded courtyard made it bearable for the hundreds of people participating in or watching the festivities, 
The first step in planning a four-day event is having the sponsorships to build a budget and determine how much to spend on entertainment, fireworks, bands, prizes, and supplies.
These following OCMS business partners generously contributed and deserve another thank you for helping to make one of the largest celebrations in Southern Iowa a success: For the second year their three-year commitment, Altec was Premier Sponsor. The Saturday sponsor was Lakeside Hotel/Casino.
Other generous donors: American State Bank, Osceola Foods, Homestead of Osceola, Hunsicker & Associates, Cactus Family Farms, Community 1st Credit Union, Clarke County Publishing, First Interstate Bank, Saylor Realty, Bud Jones Construction, Chesnut Lawn & Landscape, First National Bank, Hy-Vee, Shull, Schrum, McClaflin & Co., Luce Construction, Gilbert True Value, Stoney Oak Properties, Miller Products, Southwestern Community College, Kale Funeral Home, Mosaic, Blakely Tree Service, Highway Lumber, State Farm, and Kading Properties.
Volunteers, Volunteers, Volunteers
Every single event required volunteers to make it successful. These people and/or groups said "Yes!" when asked for help or event sponsorship.
Pet Parade Contest – Mayberry's Coffee House & Eatery
Firecracker 5k – With assistance from Osceola Fire Department, Police Department, Clarke County Emergency Management, and the City of Osceola, Clarke County Hospital and team led by Tom Bahls, sponsored, planned, and organized the event. The course began at the fire station, wound through the streets of Osceola around Q-pond Trail and finished at the fire station.
Parade – Line up, Osceola Fire Department and Police Department; Emcess Chuck Devos and Bruce Harris; Float Judges: Paula McClaflin (Stoney Oak Properties), Laura Langholz (salonRed) and Jan Rychnovsky,
Little Miss and Mister Contest – Emcee, Chuck Devos; Judges, Paula McClaflin, Laura Langholz and Jan Rychnovsky
Kids Pedal Pull – Angie Williams (First Interstate Bank), Conner Williams, Ayden Mathews, James Rutherford (Edward Jones) and Easton Brockaw.
Pie Judging and Auction – Judges – First National Bank and Auctioneers, Webb Auction
Talent Show – Emcees Chuck DeVos and Brad Lampe; Sound – Jake Lampe; Judges – Dawn and John Kempen and Sarah & James Rutherford.
OCMS Fourth of July Spotlight on Service -Boy Scout Troop 104 and their leaders Jason and Callie Shields and Stacy Feehan, clocked many hours of service to the community and competed several fundraisers throughout the July Fourth activities. Thirteen scouts ages 11-15 years old form Pack 104.
Callie said each project was considered a success either in exposure and service to the public, knowledge and experience gained by the boys and/or fundraising for future camps, conclaves, and monthly campouts.
Beginning with their fireworks sales; as per law the fireworks stand must be run by adults only but customer service like bagging products or totting them to cars provided by the Scouts. The parents, then donated the proceeds to the troop. "As parents we have found this project reduces the need for smaller fundraising throughout the school year when raising money is typically competitive. It is also a way to change the way people see scouts – Callie Shields.
Beginning early July 4th, the troop served the pancake breakfast at the fire station. Callie estimated about 350 people enjoyed the breakfast. She said they anticipated a bigger crowd this year but still had to run after supplies twice during the breakfast. As this was their second year hosting the breakfast, Callie said it was good to the boys grow in leadership. "They really stepping to running things more, which is the goal of Scouts, and the adults were able to step back a bit."
The scouts and their dads run the Cornhole tournament. "Each year we do it, it becomes a bit more polished,' said Callie. She noted that there were some teams who play in cornhole leagues, and they were happy to earn a trophy as well as cash prizes. Callie also said they may add a third age group next year.
It's not all fun and games for the Scouts during the holiday celebration, however. They also signed-up to collect the trash on the courtyard and replace trash bags during the four days of activities. Anyone attending the festivities knows how much trash is created and they also see how some people do not correctly dispose of their trash. OCMS is very grateful for this important service performed by the scouts, their leaders, and parents.
In her summation of all the events and activities Callie is grateful for all the troop's opportunities, "It lets the boys shine during a community-based holiday; these young men love this town. The services they normally proved aren't glamourous such as highway and park clean up, but getting to dig-in and serve in other way ways is a wonderful change of pace. IT really helps them be more involved in the community.